The Problem
With many of us knowledge workers working from home in the COVID-19 era, our trusty Apple MacBook's retina displays often need a bigger friend to take over the display duties. It's no fault of our MacBook's though - this is the tradeoff we make for portability.
The problem starts when we start hooking up an external monitor to match the clarity and DPI of the MacBook's retina screen i.e., a 4K or 5K monitor. 4K monitors have only recently become mainstream. Now, the external display can be on par with the retina screens' crispness and clarity. This, though, is the root of the problem. The refresh rate on the MacBook retina displays is 60 Hz, which means the screen updates with new images 60 times each second. A higher refresh rate results in a smoother picture, which is why an iPad Pro screen that refreshes at 120 Hz is smoother to use. To run a 4K monitor at 60 Hz requires the right combination of hardware, cables, and adapters.
Here are two kinds of problems you might encounter:
MacBook does not allow you to select a 4K resolution when connected to a 4K monitor
MacBook only runs the 4K resolution at 30 Hz aka animations and mouse movement is choppy
To figure out a solution, here's what I recommend.
Step 1: Check if your MacBook supports 4K resolution
The first step is to make sure your MacBook supports outputting 4K signal to an external monitor. The best place to check is on Apple's Support website. A search query like the following will usually bring up the correct model.
apple macbook 13 inch 2016 technical specifications
NOTE: You'll need to specify the year and screen size (13, 15, 16 inches etc.) to match your machine.
Then the supported resolution's are usually specified in the "Video Support" section. Here are two examples of the 2016 models.
MacBook 2016
Graphics and Video Support Intel HD Graphics 515 Dual display and video mirroring: simultaneously supports full native resolution on the built-in display and up to 3840 by 2160 pixels at 30Hz on an external display, both at millions of colors
MacBook Pro 2016
Video Support Simultaneously supports full native resolution on the built-in display at millions of colors and: One display with 5120-by-2880 resolution at 60Hz at over a billion colors Up to two displays with 4096-by-2304 resolution at 60Hz at over a billion colors
Notice the difference above in the bolded text. Both these 2016 models support 4K resolution (3840 by 2160 pixels or higher), but the 2016 MacBook only supports running an external display at 30 Hz. So, this is the first order of business to tackle and find out if your machine can support 4K external display and, more importantly, at 60 Hz.
Step 2: Make sure you've got the right adapter
In recent MacBook models, Apple has removed the full HDMI ports and replaced them with USB-C Thunderbolt ports that perform video-out duties. This is great if you want to reduce the number of cables because the USB-C cable can also charge the MacBook. Still, the majority of users have legacy type connections i.e. HDMI or Display Port cables. Apple sells a USB-C adapter that lets you plug in an HDMI cable. There are actually two Apple USB-C adapters, and this is where Apple makes it more challenging than it needs to be. Both these adapters look exactly the same as the below image, but only one supports 4K 60Hz.
Model A2119 is the newest model that supports HDMI 2.0 and up to 4K 60 Hz.
Model A1621 supports HDMI 1.4b and 4K up to 30 Hz.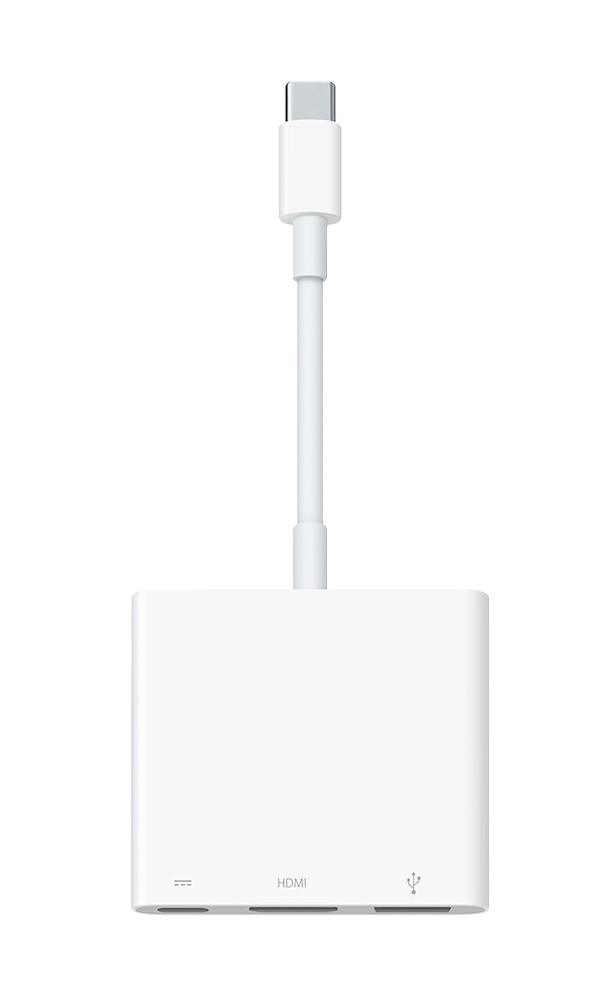 If you're using this adapter and seeing only 4K 30Hz resolution options, make sure you've got the newest model. The model number is written on the adapter but is very faint and small, so you might have to squint 👀
(DISCLOSURE: This post includes affiliate links. Should you click an affiliate link and make a purchase I may receive a small commission at no extra cost to you.)
Official Adapter costs $60-70
If you want to buy the official Apple adapter, it's normally $69.99 on Apple's website but it's going for $61 on Amazon at the time of this writing.
Third-party adapters for < $20
If the Apple adapter is too expensive, then I'd recommend the following third-party adapters. You have to read the fine print on these as some of these only work at 4K 30 Hz. Here are a few recommendations with the first one that personally worked for me:
Monitor Recommendation
If you're looking for a great 4K Monitor, then I recommend the Philips Brilliance 4K UHD 27" which I have been using for more than a month. I wrote about my experience here.
Contact
Reach out if you have any questions! Feel free to follow me on