May was another amazing month for the AV1 codec! We saw great progress in the SVT-AV1 encoder, Android update news and some surprising news out of China!
SVT-AV1 is making strides!
Let's start with SVT-AV1 encoder, the current encoder of choice for Netflix, being developed by the folks at Intel. In May, version 0.5.0 was released with the following features:
8 bit / 10 bit 4:2:0 up to 4K60p resolutions
Presets 0-8
New API, FFmpeg, GStreamer plugins
Rate control support (VBR, CVBR)
Block sizes from 4x4 to 128x128
Non-square blocks
Tiles
Deblocking / CDEF / Restoration filters
Film Grain
Warped motion estimation
Intra block copy
Trellis quantized coefficient optimization
Support for 4 and 5 layers prediction structures
Chroma search in MD
Multi-reference picture support
Other notable updates
Android Q gets AV1 support
May was also the month when the annual Google I/O conference was held. Onc of the announcements out of Google I/O was that the newest version of Android, codenamed Q, will support AV1 by default. This will surely be another step towards increasing the AV1 adoption.
Firefox 67 release makes AV1 decoding default on all desktop platforms
With the release of Firefox 67, AV1 decoding is now enabled by default on all desktop platforms (Windows, OSX and Linux) for both 32-bit and 64-bit systems. Firefox 67 is also the first time the AV1 decoder has switched to dav1d by default. Sponsored by the Alliance for Open Media, dav1d is a joint effort between the French non-profit VideoLAN and the greater FFmpeg open source audio/video community. In the April ecosystem update, I talked about the dav1d 0.3.0 release and the performance improvements it brought with it, so it's very exciting to see Firefox use dav1d by default!
Visionular Aurora AV1 codec claims it's faster and better than x265
Another piece of interesting news was the Visionular Aurora AV1 codec that I first read about in this summary of LiveVideoStackCon Shanghai 2019. In this presentation it is claimed that Aurora AV1 beats libaom encoder by ~33% and x265 by ~42% on VMAF model.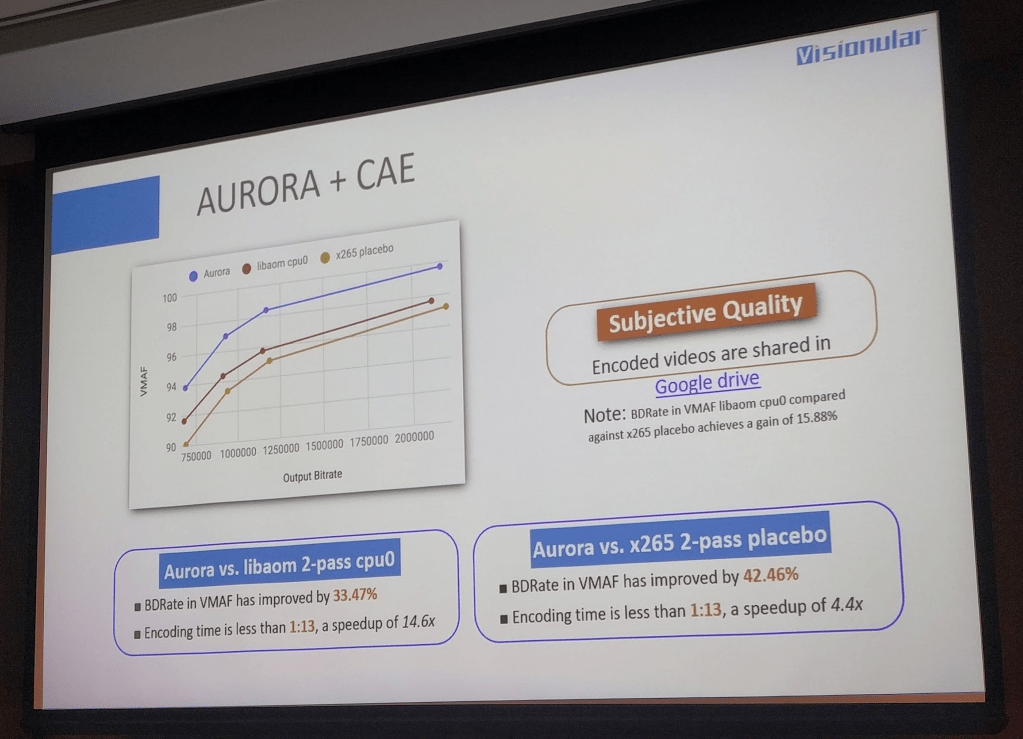 From Visionular website, Auorara claims to improve encoding speed by 32.2% against x265 veryslow which is very surprising and the first time I'm hearing about an AV1 encoder being better in quality and faster than x265. It'll be interesting to see if we find out more info and are able to test this encoder in the coming months.
BBC compares AV1 & VVC
Joint Video Experts Team (JVET) is currently working on the successor to the H.265/HEVC codec which is called Versatile Video Coding (VVC). VVC is currently in development and is to be finalised in 2020. In this test BBC, VVC performed 27% better than the HEVC for HD sequences and 35% for UHD sequences. Also, in this test AV1 was shown to perform similar to HEVC. Without any encoding parameters and details on testing methodology, I would call this test flawed as AV1 has consistently shown to perform better than HEVC.
Amphion Semiconductor Hardware decoder
Amphion Semoconductor announced the availalability of its 4K/UHD capable hardware decoder for AV1. I beleive this might be the first hardware SoC designed to decode AV1.
Previous updates
Reach out if you have any questions! Feel free to follow me on